HOSTAR Trailer Helps Sustain Small Community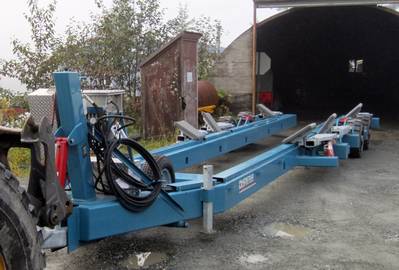 The 700 residents of Yakutat, Alaska engage in a variety of activities, but the economy is rooted in commercial and sport fishing and fish processing. HOSTAR's HST5500YS hydraulic yard trailer provides the community with a safe and efficient means of launching and retrieving boats during the town's active fishing season.

Yakutat Harbor is a small boat harbor operated by the City and Borough of Yakutat. Primarily used by smaller commercial fishing boats, the harbor facilities consist of six main floats, a launch ramp and grid. A seaplane float is located at the end of the central main float. In addition to commercial fishing boats, Yakutat Harbor also handles pleasurecraft, from 22' and up.


The HOSTAR HST5500YS is a 30-ton yard trailer built for launching and retrieving boats on Yakutat Harbor's steel ramp. It's capable of handling small craft and large commercial fishing vessels. The trailer's hydraulically operated walking beam suspension allows operators to raise the frame and lower it to the ground, each side independently. Its six hydraulic arms stabilize the boats during launching or retrieval.

Air-cushioned solid yard tires have excellent traction and enable longer wear and reduced maintenance. A handheld remote device controls all of the trailer's hydraulic functions. A Volvo L70 front end loader will be used to launch and retrieve boats on the ramp.

HOSTAR Marine hydraulic trailers solve the problems of limited storage space, high transportation and handling costs, unwieldy cradles and time-consuming loading and launching procedures. The company designs and builds state-of-the-art hydraulic trailers for marinas, boatyards, haulers, restorers, dealers and manufacturers to more safely and efficiently launch and retrieve vessels of all sizes.