UAE Navy Vessel Refit Completed at DMC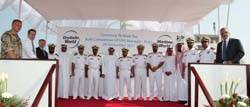 Dubai Maritime City, the purpose-built city to promote maritime and allied businesses, today announced the completion of major mid-life refit completion of UAE navy vessel UNS Murayjib (P161) amid celebrations to mark the occasion. A high level delegation from the UAE Navy participated in the celebrations. The delegation was taken on a tour of the vessel by Khamis Juma Buamim, Chairman of Drydocks World and Maritime World.
"We are deeply honoured by the UAE Navy team's visit. We are grateful that the UAE Navy has placed continued faith in our services and we have repeatedly serviced vessels to their satisfaction. This is a testimonial to our wide-ranging offerings that are tailored to suit the clients' needs. Our ship-lift operations have more than doubled year-on-year and we have the technical capability to carry out sophisticated and highly challenging repair assignments. We have a growing client base in the small to mid-size vessel sector in the Middle East and we expect this to continue in line with the development of infrastructure within the city," said Mr. Buamim.
UNS Murayjib arrived at Dubai Maritime City in November last year. The work scope for the refit largely included the complete overhauling of the vessel.