Tow Fixed By Marcon Completes 5,233nm Delivery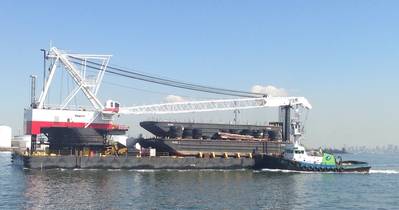 Marcon International, Inc. of Coupeville, Washington reported that after 52 days, the 2,800BHP twin screw tug Miss Lis (ex-Kari A, Marine Pioneer) successfully completed the 5,233nm tow of the ocean crane barge Thomas W from Long Beach, California through the Panama Canal to the Hudson River in New York.


The 225' x 78' x 15' depth, ABS +A1 Ocean crane barge, outfitted with a 400T Whirley with a 150' boom, and laden with three smaller flat deck barges, was destined for the new Tappan Zee Bridge Project in New York. The barges will be working for the Joint Venture group to build the new $3.1 billion. 3.1 mile, twin span cable-stayed bridge across the Hudson River. This project, the single largest bridge construction project in New York's history, is estimated to take approx. five years with completion projected for 2018. Tug and tow departed Long Beach during the first full week of August and arrived in New York on September 30th, 2013.


The 82' x 28.3' x 11.2' depth tug is powered by a pair Mitsubishi S12R-MPTAs which produce a total of 2,800BHP through Reintjes WAF562 4.5:1 reduction gears to 62.3" x 77" Nautican propellers in fixed kort nozzles and triple rudders, all installed in 1997. "Miss Lis" was originally powered twin turbocharged GM12V149s developing 1,900BHP, but Tradewinds Towing repowered her in 2007. The tug had been built in 1982 as the "Marine Pioneer" by Marine Power & Equipment in Seattle for their affiliated operating company Marine Logistics Corp. and sold during the last major downturn in the late 1980s. She was working docking ships and coastal towing for Anderson Tug and Barge in Seward, Alaska when purchased in 2005 by her current owner through the auspices of Marcon International, Inc.