Meyer Werft Completes New Dual-fuel LNG Tankship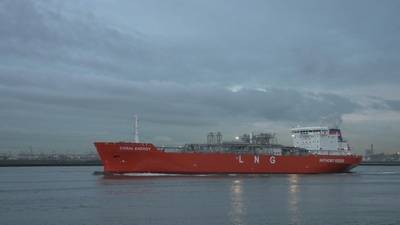 The new Liquefied Natural Gas (LNG) tanker, 'Coral Energy', is for the Dutch owner Anthony Veder, based in Rotterdam.

The ship is the first of a new gas tanker type which is equipped with an eco-friendly dual-fuel engine. The tanker is operated with natural gas bringing the emissions of the vessel to extremely low values which are clearly below the prospective applicable limits for ECA-areas.

The vessel was already named in Rotterdam on December 7 by Her Royal Highness Princess Máxima of the Netherlands, an event perceived as very special by all stakeholders involved in the small to midscale LNG business.

For decades this shipyard has specialized in building gas tankers and 55 gas tankers have been built in the past years. The new tanker built for transporting LNG which is cooled down to minus 161°C has a length of about. 155 m and a breadth of 22.70 m with a cargo capacity of 15,600 m³ and a maximum speed of 15.80 kn. Fully loaded with LNG, Coral Energy will have a draught of 8.20 m.

Meyer Werft says it will further develop this new propulsion system intensively so that the technology can also be used in passenger ships.

The ship owner Anthony Veder is specialized in transporting gas by seagoing vessels. Its fleet currently consists of more than 25 ships. Meyer Werft and Anthony Veder have collaborated in both the new building and the repair sector since the middle of the 1970s.

Coral Energy has proven its seaworthiness during the seal trials when all systems and plants were tested.