WESMAR Completes Sonar Install on Arctic Vessel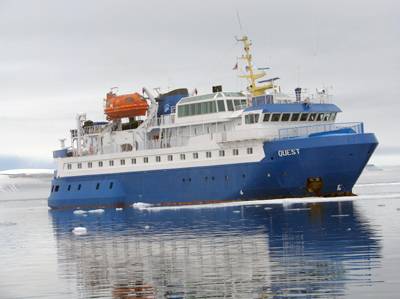 WESMAR Completes Navigation & Security Sonar Installation On Arctic Expedition Cruise Ship.
WESMAR, a US manufacturer of sonar systems, today announced they have completed the installation of their high-definition, long-range sonar on the 164-foot arctic expedition ship M/V QUEST. Managed by International Shipping Partners, the QUEST joins a number of vessels that have already installed WESMAR's advanced technology searchlight sonar for navigational capability and safety.
WESMAR's new sonar system, which is designed for cruise ships and excursion vessels such as M/V QUEST, offers unmatched navigational and security aid, in both shallow and open water. With the ability to scan a full 360 degrees around the vessel as well as profile the bottom underneath the ship, the WESMAR sonar offers unparalleled protection. The system provides the ability to navigate safely into unfamiliar harbors and while cruising. Reefs, rocks, icebergs and other potential hazards such as lost shipping containers can be detected and avoided.
The M/V QUEST expedition vessel voyages to Scotland, Iceland, Greenland and islands in the north of Norway, home to polar bears, walruses and ever-changing ice formations. The journey into these Arctic islands begins by sailing out through the spectacular Ice Fjord and, with the installation of WESMAR's sonar, M/V QUEST's passengers can now enjoy nature's beauty with added confidence and comfort as they cruise.