USS Fort Worth Completes Maiden Voyage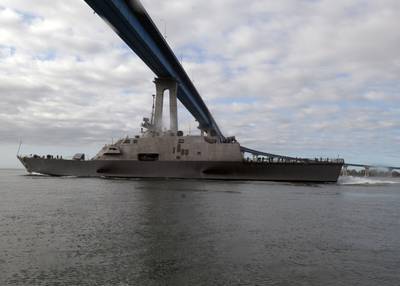 The Freedom-class littoral combat ship 'USS Fort Worth' (LCS 3) arrives in her San Diego homeport.

The ship, named for Fort Worth, Texas, the 17th largest city in the United States and the 5th largest city in Texas, was built in Marinette, Wis., and was commissioned in Galveston, Texas, Sept 22.

 After commissioning, Fort Worth departed Galveston and steamed through the Gulf of Mexico, Caribbean Sea and Panama Canal into the Pacific Ocean, completing more than 11,000 miles on her maiden voyage.


Fort Worth is 390 feet in length, with a steel mono hull, aluminum structure and is the third littoral combat ship in the fleet. It has a displacement of approximately 3,000 metric tons fully loaded, is capable of speeds in excess of 40 knots, and can operate in water less than 20-feet deep. Propelled by four water jets in addition to two diesel and two gas turbine engines, the ship boasts a range of over 3,500 nautical miles. 



This warship is outfitted with reconfigurable mission packages, which can be changed out quickly, and focus on three mission areas: mine countermeasures, surface warfare and anti-submarine warfare.

"This is definitely a ship that 20 years from now, we will invent a weapon or capability that we haven't even thought of that will be able to go on the ship because of how the ship has been designed to carry a payload," said Commander, Naval Surface Force, U.S. Pacific Fleet, Vice Adm. Tom Copeman.