Exhaust Manifold Catalyst System Completes Trial on Tug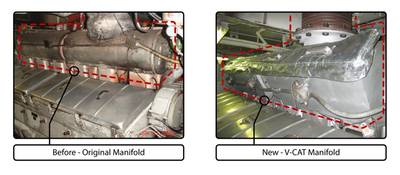 New Exhaust Manifold V-CATTM Catalyst System from MIRATECH Successfully Completes One Year Trial on Harbor Tug.
MIRATECH Corporation announces a successful first year demonstration of its new, patented V-CATTM Integrated Diesel Oxidation Catalyst System on a vessel powered by two EMD 12-645 roots blown diesel engines in service in California. MIRATECH Corporation, in partnership with Foss Maritime Company, has now successfully completed the first year of a three-year program to demonstrate emissions reduction from the M/V Brynn Foss (Figure 1.), using MIRATECH Corporation's embedded diesel oxidation catalyst (DOC) systems known as V-CAT on the tug's EMD engines. The V-CAT system can reduce particulate matter (PM) 30-50%, hydrocarbons (HC) 50-70% and carbon monoxide (CO) 80-90% at full load conditions. The program was funded via a grant through the Port of Los Angeles, CA.


The M/V Brynn Foss tug spends most of its operating time at low load conditions, but also needs close to full load power for short periods of time. Uptime and reliability are of utmost importance to Foss as this tug is used in revenue service daily. Traditional DOC systems are placed somewhere along the existing exhaust system making them prone to issues with plugging due to the lower exhaust temperatures. This could become an operational issue for cooler running EMD marine engines. The V-CAT DOC is a unique system in that it replaces the existing exhaust manifold (Figure 2.) and so that the embedded catalyst experiences the hotter exhaust gases coming directly from the engine. This heat allows the catalyst to more effectively oxidize the PM, HC and CO.

In addition to its "plug-and-play" installation design, the V-CAT offers a number of other operational benefits over conventional in-line DOC systems:

• Greater emissions reduction performance
• Zero back pressure – negligible fuel economy loss
• Individual catalyst for each cylinder – ease in servicing
• Engine serviceability maintained – engine valve covers still accessible!
The Foss program is to demonstrate the effectiveness of the V-CAT over a three year period in revenue producing service operation. Periodic inspections of the system will be completed over the three year program. Six and twelve month inspections have been successfully accomplished with no operational or technical problems identified. The MIRATECH V-CAT DOC is currently EPA Certified and CARB Verified. MIRATECH Corporation is proud to partner with Foss, a leader in testing environmental solutions for the maritime industry, and the Port of Los Angeles on this very important emission reduction program.