Heavy Lift Ship Completes First DP2 Project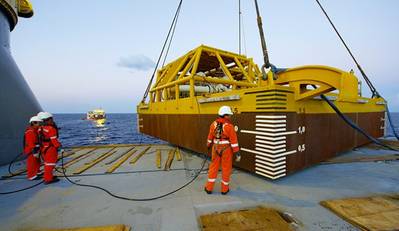 The contract required SAL's heavy lift ship 'MV Lone' to load & transport two structure to the field and deploy them to the seabed.
The award of the contract proved the added value of the investments SAL made in the DP 2 system and also in the design, construction and testing of the hang-off beam.

The first structure, a protection cover of 80 mt, intended to protect an existing pipeline and valve arrangement, was loaded in Ortona, Italy. Following that the vessel loaded the second structure in the port of Limassol, Cyprus. This structure, a Pipeline End Manifold (PLEM) weighing 120 mt, was for deployment in an area where a FNLG vessel would be moored. The purpose of the PLEM is to connect the gas import pipeline, which runs on the sea bed to the port, with the FNLG vessel thereby allowing the transfer of gas ashore. The PLEM was deployed first, with the protection structure following almost three weeks later.
During the deployment and installation processes, the MV Lone was supported by the client's diving support vessel (DSV). From this vessel, divers were deployed to the sea bed to assist with structure positioning and de-rigging after it had been successfully laid.

The safe and successful delivery of the project marks a significant milestone – SAL Heavy Lift has entered the offshore market.