Sea-Fire Keeps Vessels in Compliance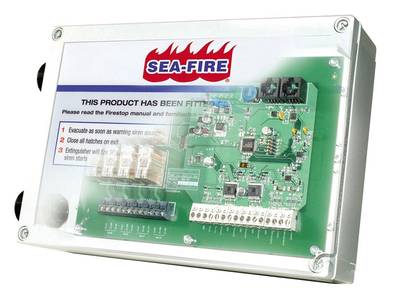 The U.S. Coast Guard's Bridging Program is moving the towing industry toward one of inspected vessels prior to the new Subchapter M regulations.
Among the requirements are installation of a fire detection system to detect engine room fires, and a fixed fire extinguishing system to protect the engine room. Sea-Fire's FireStop Fire Detection & Alarm System now has USCG approval to help towing vessel owners with compliance, in addition to its approved fire suppression systems.
Sea-Fire's modular FireStop system provides quick and clear identification of open, short and alarm conditions of fire alarms. Its 10" x 7" control panel has fire, heat and smoke monitoring capabilities.

The standard unit covers two zones, such as the engine room and an accommodation area. Each zone can have up to two detectors and/or no limit to manual call points. When the fault is detected the signal is processed and sent via CAT5 cables through the control panel to Sea-Fire's Display Panel and/or Zone Identification Panel. The weatherproof Display Panel uses LEDs to indicate alarms and faults, while the custom-designed Zone Identification Panel indicates the exact location of the detected warning. FireStop can be expanded to handle up to 16 zones with Sea-Fire's Fire Control Adapter Panel.

FireStop is designed to integrate with Sea-Fire's Pre-Engineered fixed extinguishing systems. The company offers a variety of cylinder sizes to accommodate areas from 25-1,800 cu. ft. of engine compartment volume.

These USCG approved systems operate automatically with heat sensor actuated valves, and can also be equipped with a manual discharge capability. They utilize 3M™ Novec™ 1230 Fire Protection Fluid extinguishing agent. Non-toxic Novec 1230 is the safest on the marine market, with zero ozone depletion and an extremely low Global Warming Potential(GWP) of just one.