Compliant Hydraulic Fluid Gains Industry Use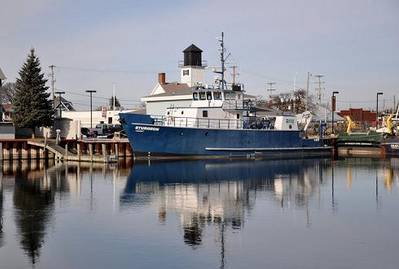 In the search to find EPA Vessel General Permit (VGP) compliant lubricants, ship owners don't have to sacrifice performance or competitive pricing to meet the regulations. Panolin America offers a range of Greenmarine environmentally considerate lubricants, including its high-performance hydraulic fluid HLP Synth.
Developed more than two decades ago, HLP Synth derives from saturated synthetic esters, rather than vegetable or mineral oils. Like all Greenmarine products, it is 100% VGP and sVGP compliant. Readily biodegradable according to
OECD 301B
/ASTM D 5864, it produces no bioaccumulation and has negligible toxicity to aquatic life. Greenmarine HLP Synth is ABS type approved, and meets global environmental requirements such as RINA Green Plus, Blue Angel, and Euromargerite.
It prevents deposit build-up and gumming, providing serviceable use four to five times longer than mineral oil-based products. With outstanding resistance to corrosion and wear, it remains stable despite oxidation and aging, and stands up to harsh conditions with a pour point of -76ºF.
These attributes led the U.S. Geological Survey (USGS) Great Lakes Science Center (GLSC) to use Greenmarine HLP Synth for its research vessel based in Cheboygan, Michigan. The 101' R/V Sturgeon performs fisheries research on Lake Michigan, Huron and Superior. Panolin Greenmarine HLP Synth will be used on the vessel's A-frame, power steering, anchor windlass, deck cranes and thrusters.
With a beam of 24'9" and a draft of 10'2'', the R/V Sturgeon uses twin Detroit Diesel engines to reach a cruising speed of 10.4 knots. This vessel is capable of bottom or midwater trawling, gillnetting, performing mysis tows, measuring hydroacoustics, and sampling bottom sediment. Its collected research data helps scientists and resource managers determine fisheries resource policies and rules.
Both a 180' Liebherr P995 marine excavator and a CAT 235 hydraulic rock excavator have operated over 22,000 hours without an oil change, the manufacturer reports. The London Eye, Britain's landmark giant Ferris wheel, has also run for 100,000 hours on HLP Synth with no oil change.