Tests Prove Polymer Pump Components Best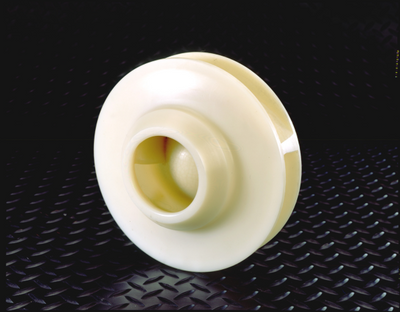 Intech Power-Core release a study of extensive testing performed on 100% cast impellers made of a Power-Core material, instead of metal.

Testing performed by the company on 100% cast impellers made of a Power-Core material suggests that the light weight and electrically insulated Impeller will keep perfect balance while it resists cavitation wear and corrosion common to metal impellers.

In the experiment an impeller made of stainless steel was compared to a pump impeller running in the same environment but made from Power-Core ® a proprietary cast polymer. The results were impressive showing no-weight loss due to cavitation and erosion wear in the polymer and considerable cavitation damage and erosion caused to the stainless steel counterpart.

A pump impeller is a classic example of a moving component that can both cause cavitation—and suffer the consequences of cavitation wear.

It may be counter-intuitive, but polymers can actually do a better job than seemingly stronger metals when it comes to enduring cavitation wear. The reason is that inherent elasticity of polymers allows them to absorb the energy released by the collapsing bubbles. Yet, not all polymers should be considered a good fit for applications that suffer from cavitation wear. Keep in mind that cavitation implies a continuous exposure to liquid. And many types of polymers, such as phenolic and nylons, simply will not tolerate liquid exposure for long periods of time—not without dimensional changes or degradation in physical properties. One polymer that can tolerate the long-term exposure to many types of liquids is the cast polymer that serves as the base for Intech Power-Core®.

"While we have long theorized that Power-Core would be an outstanding choice for pump impellers, Casing Rings, hydraulic valves and other components that are subject to cavitation wear, we have lacked the data and calculations to bring them to market. We are pleased to finally have the empirical evidence to substantiate our hypothesis and be able to bring this unique solution to market," noted Alexander Bartosch - Marketing Director at Intech. "Recently, we backed up our theories with cavitation tests that compared Power-Core® to various chromium-nickel alloy 329 Stainless steels under conditions that simulate those found in high-pressure pumps."

The results show that the steel alloy loses significant weight over time, which is an indication of the pitting caused by cavitation. The Power-Core, by contrast, exhibits no weight loss, or wear, whatsoever.