Atlas Copco Launches Hurricane Rig Safe Compressor at OTC 2012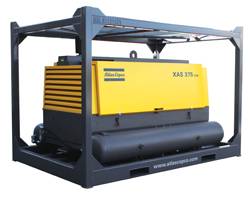 Atlas Copco Hurricane gave the offshore oil and gas industry a first look at its XAS 375 CD6 air compressor in a new rig safe package at the Offshore Technology Conference April 30 through May 3 in Houston. The entire unit is built into a specially adapted DNV 2.7-1 certified crash frame, and includes a full range of modifications to meet offshore requirements. Typical applications include rig services such as sandblasting and general maintenance.

The new unit is built on the proven and dependable XAS 375 CD6 platform. In addition to the crash frame, modifications for offshore use include three-layer offshore paint to fight corrosion, an air starter with air receiver tanks, and offshore coated air filters and coolers. Safety features have also been added, such as the certified spark arrestor, anti-static fans and fan belts, and an engine air-intake over-speed shutdown valve. Environmental protection is provided with a spillage-free base frame.

"Of course, like all our compressors and boosters, the new rig safe XAS 375 is smaller and lighter than comparable units you see in the market," commented Pieter Taljaard, factory product manager for Atlas Copco Hurricane. "They still provide just as much power as their bulkier competitors. But why would you want a compressor that's bigger or heavier than it has to be on board?"

The Hurricane XAS 375 CD6 is powered by a Caterpillar C4.4 engine that delivers 111 hp. It provides 100 psi with an actual free air delivery of 375 cfm.