Concordia, Damen Partner to Build Inland Vessels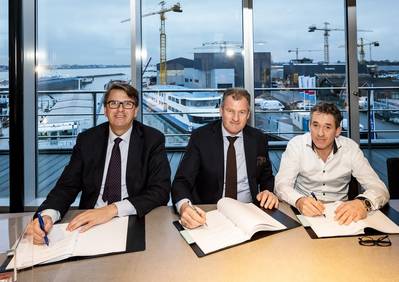 Concordia Group and Damen Shipyards Group have signed a joint venture agreement to cooperate in the construction and trade of inland waterway vessels. The joint venture will operate under the name Concordia Damen Shipbuilding.
Concordia has been active in the Dutch inland waterways business since 2001 and also internationally over the past decade. Concordia's corporate identity will remain within the new joint venture.
Celebrating its 90th birthday this year, Damen has been active in almost all sectors of the maritime industry since the beginning of the 20th century. Damen's Inland Waterways team, led by Product Director Inland Waterway Transport Simon Provoost, will move from the Damen headquarters in Gorinchem, to the Concordia office in Werkendam, the
Netherlands
. Provoost will be appointed as Managing Director of Concordia Damen Shipbuilding.
Chris Kornet, CEO of Concordia, said, "Concordia Damen Shipbuilding will, beside catering to the general demand, focus on the development of sustainable vessels with a diversity of new shipbuilding techniques, in order to achieve a bright and clean future for ship-owners."