Costa Concordia Salvage Update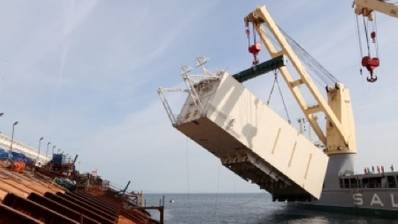 Salvors have successfully positioned the first port-side sponson that will be used in the 'parbuckling' stage of the wreck removal process.
Operations now continue with the installation of the second sponson, and eventually they will be welded on the hull of the wreck.
At the same time, drillings for next 10 underwater holes will carry on in order to position remaining platforms 2 & 3.
In this major feat of salvage and underwater engineering altogether 438 workers based at Giglio are currently engaged in operations to float the wrecked cruise ship and tow it away.