Costa Concordia Used For Mafia Drug Smuggling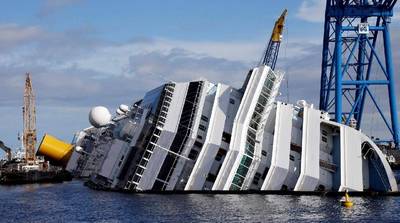 The doomed Costa Concordia was carrying a huge shipment of Mafia-owned cocaine when it set off on its final voyage, AP reports quoting investigators who have collected evidence.
Authorities have collected phone and tape recordings that show the 'Ndrangheta Calabrian criminal organization was behind the smuggling. 'Ndrangheta had its drugs hidden aboard the huge cruise ship that partially capsized in January 2012 with the loss of 32 lives, evidences have revealed.
"The same ship that made us a laughing stock around the world, took the piss out of us, too," 'Ndrangheta boss Michele Rossi is heard saying to an associate, Massimo Tiralongo, according to police officers investigating the organization's vast cocaine-trafficking operation.
Earlier, Italian newspaper La Repubblica reported that police investigating drug trafficking routes
between South America
and Italy believe large quantities of cocaine have been hidden in
food supplies
in cruise liners, including the ill-fated Concordia.
Apparently, the Mafia-type criminal organization has been using ships owned by MSC and Norwegian Cruise Lines, as well as the Costa Concordia to smuggle drugs between Europe, North America and the Caribbean.
Officers from the organized crime investigation group in Florence say that the coke was stowed without the knowledge of senior ships' officers, but it is probable that some junior crew members were involved.
According to The Times, the 'Ndrangheta relies on Spanish ports to its cocaine
into Europe
. Recent arrests show that they use cruise ships to smuggle drugs on board with food or have them carried by couriers posing as passengers.
Thirty-two people died after the Costa Concordia struck an outcrop of rocks and keeled over off the coast of the island of Giglio on January 13, 2012. The cruise liner was carrying 4,229 people from more than 70 countries when the accident happened. The ship listed and turned onto its side which made it impossible to launch many of the lifeboats once the alarm was sounded.