US Congressional Committee Urges Retention of Subs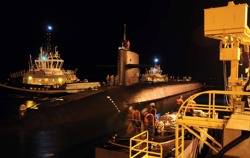 Panel to Navy: Keep 12 ballistic missile subs
A minimum of 12 ballistic missile submarines must remain in service for the foreseeable future, a key congressional committee said, despite Navy plans to drop below that number beginning in 2029.
The provision is included in the markup of the House Armed Services seapower and projection forces subcommittee, which was released Wednesday.
Although 14 Ohio-class "boomers" are now in service, the fleet is scheduled to begin shrinking in 2027 as the oldest units are retired. Current Navy plans show the force dropping to 11 ships in 2029 and reaching 10 ships in 2032, where the level holds for a decade before starting to rise again as new replacement submarine come on line.
The markup — the first legislative process in assembling a defense authorization bill to send to the full House of Representatives — also approves a Navy request for a new multiyear procurement authority for Virginia SSN 774-class attack submarines. The subcommittee granted MYP authority for 10 submarines beginning in 2014, and allows for incremental funding of the ships.