Congresswoman Marcy Kaptur Christens Tugboat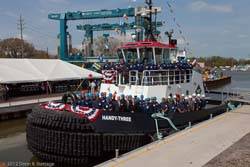 Congresswoman Marcy Kaptur, Representative of Northern Ohio's Ninth Congressional District, was the Sponsor and Principal Speaker for the naming ceremony for the tugboat HANDY-THREE at Great Lakes Shipyard.

"She is here today because of her sponsorship and commitment to small shipyards," remarked Ron Rasmus, President, The Great Lakes Group. Kaptur has championed the passage and funding of the Assistance to Small Shipyards Grant Program which makes grants for capital and related improvements for qualified small shipyard facilities to foster efficiency, competitive operations, and quality ship construction and repair. Great Lakes Shipyard has been the recipient of such grants.

The HANDY-THREE is the third of a class of Handy Size tugboats designed by Jensen Maritime Consultants, Seattle, Washington and built at Great Lakes Shipyard. Specifically for harbor and coastal towing, the "HANDYSIZE" Class fills the market niche in the 2,000 - 4,000 horse power tug market for harbor work, fireboats, and construction operations as well as for coastal barge towing. All three boats have been sold to Caribbean and Central American buyers in Great Lakes Shipyard's competition with other international shipyards.