MEDS: Get Connected & Protected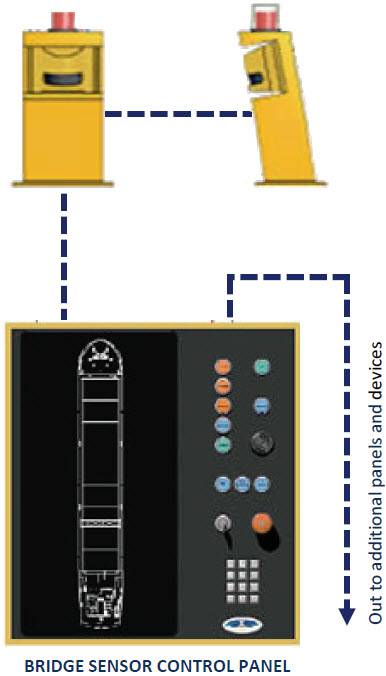 Late last year Radio Zeeland DMP launched MEDS, and advanced monitoring system that integrates laser sensors, day and night vision cameras and software to alert crew or authorities in a safety or security event.
"MEDS (Maritime Early Detection System) is designed to be a security and a tracking product," said David Leone, president, Radio Zeeland DMP.
"It can be used as it is in the cruise line industry for man overboard, or an anti-piracy device, or if a ship owner wants to monitor the deck of a supply vessel, or the legs of a rig to determine when there is a supply boat approaching."
The proprietary core of the system is a laser sensor that transmits up to 82 meters at 190 degrees, designed to be used as a stand-alone or in concert with a web of sensors providing total coverage of a larger area.
The sensors are networked with a camera system – which can be the ship or facility's existing camera system or one provided by Radio Zeeland DMP – so that not only is an alert triggered, but immediate image verification is provided.
"Nobody sits around and watches CCTV all day," said Leone. He said that when the sensor trips, the camera starts recording 15 frames before sot that the event is provided in a continuous loop. The user of the system then sees a split screen: real time video as well as the roll-back video showing the original event that triggered the alert. This provides the operator with immediate actionable intelligence, as well as a means to determine early in the process if it was a false alarm, such as a large bird flying through the sensor field.
"There are many products that provide security monitoring, but MEDS is different as it provides a total package of monitoring on virtually every aspect of the vessel," said Leone.

SIGMA 1100
The company also launched SIGMA 1100, an engine data display unit specifically designed to make the job of monitoring engine parameters easier on crews stretched thin. The unit is compact and able to read out two engines at the same time, visualizing the information on screen.
"The SIGMA 1100 can provide valuable data quickly, especially when vessels have two different engines," said Leone. "Using the SIGMA 1100, data such as fuel consumption, coolant temperatures or RPM are easier to interpret with its intuitive pictograms that vary according to function."
The unit features three types of page layouts: a main page with a fixed template to show the I/Os, an overview page that is customizable for digital numeric readouts, and an alarm page that will send out an alert if a digit goes beyond a pre-defined level.