LA Port Chief Wins Conservation Award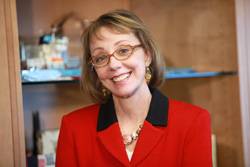 Port of Los angeles Executive Director Receivs Peter Benchley 'Excellence in Solutions' Ocean Conservation Award.



Port of Los Angeles Executive Director Geraldine Knatz, Ph.D., has been named the 2012 recipient of the Blue Frontier Campaign's Peter Benchley Ocean Award for "Excellence in Solutions." The Blue Frontier Campaign is a national marine conservation activist organization working to improve ocean policies in coastal states. The Peter Benchley Award is named in honor of lifetime marine wildlife conservationist Peter Benchley, best known for writing the bestseller novel 'Jaws' in 1974.

Dr. Knatz was recognized for her environmental efforts as executive director of the Port of Los Angeles, the busiest container port in the nation, and her role as president of the International Association of Ports and Harbors (IAPH), where she has become a global leader in the Greening Ports movement. She will receive her award at a ceremony Friday night in San Francisco.

"Combining her savvy as a long time port official and her knowledge as a marine biologist and environmental engineer, Dr. Knatz has transformed 'America's Port®,' at Los Angeles into 'America's Greenest Port,'" said David Helvarg, co-founder and executive director of the Blue Frontier Campaign. "Through collaboration with the neighboring Port of Long Beach, she has led successful efforts to clean the air and water, demonstrating the link between environmental clean-up and economic prosperity."

"I am honored to receive the Peter Benchley award," said Dr. Knatz. "It's exciting and rewarding to see how the work we've done at the Port of Los Angeles impacts other ports worldwide and spurs change in our industry." Dr. Knatz noted that inaugural 2004 Peter Benchley Award winner Dery Bennett hired Dr. Knatz in 1973 to do environmental water sampling in New Jersey, her first professional position.

The fifth annual Peter Benchley Ocean Awards acknowledge the broad range of achievement in the ocean and coastal community, providing a way to celebrate outstanding achievements that lead to the protection of our coasts, oceans, and the communities that depend on them.

Other 2012 award winners include U.S. Senator Sheldon Whitehouse (D-RI) for advocating for ocean protection in the United States Senate; Google for making ocean exploration possible via "Google Earth" and Dr. Nancy Rabalais, Executive Director of the Louisiana Universities Marine Consortium, for identifying the Gulf of Mexico "Dead Zone" and working to reduce its upstream causes. A posthumous award will be given to Peter Douglas, the creator and longtime Executive Director of the California Coastal Commission. Douglas, who passed away in April, will be honored with the "Hero of the Seas" award for assuring public access to and protection of California's 1,100 miles of coastline.

In January 2006, Dr. Knatz became the first female executive director of the Port of Los Angeles. Moving the Port forward with an agenda that focuses on responsible Port growth and environmental leadership is an aggressive goal that Dr. Knatz has tackled from day one. Accommodating the Port's future growth involves reducing air emissions, eliminating health risks and expanding capital development programs, all top priorities of the Port under her leadership.