Ingalls Starts Construction of Destroyer DDG 114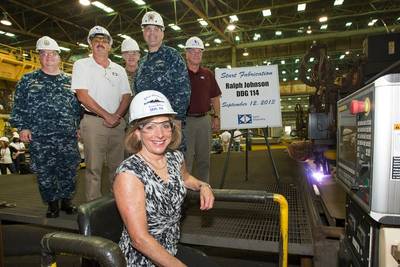 Huntington Ingalls Industries has started fabrication of the U.S. Navy's next Aegis guided missile destroyer, 'Ralph Johnson' (DDG 114). The ship will be the 30th Arleigh Burke-class destroyer built at the company's Ingalls Shipbuilding division.

The start-of-fabrication milestone signifies that 100 tons of steel have been cut for DDG 114. Ingalls uses state-of-the-art robotic cutting machines to ensure the steel is cut and fabricated to exact Navy specifications. Ralph Johnson is expected to be delivered in the first half of 2017.
Georgeann McRaven, the ship's sponsor, visited Ingalls to observe a special start-of-fabrication ceremony. She is wife of U.S. Navy Adm. William McRaven, commander, U.S. Special Operations Command.

"It was just fantastic, and I learned so much about shipbuilding," Mrs. McRaven said. "It was nice to meet so many shipbuilders. They're all so dedicated to their jobs and proud of what they do. I feel like they're serving in the military as well because they're building great ships for us."

Ingalls is also building the destroyer John Finn (DDG 113). Construction began last September, and its keel laying is set for Nov. 4. John Finn is expected to be delivered to the Navy in the later part of 2016.

On June 3, Ingalls was awarded a $3.3 billion multi-year construction contract to build five more DDG 51 destroyers, ensuring Ingalls will build DDGs for the next decade. Upon delivery of the FY17 DDG, Ingalls will have built 35 of the ships.

To date, Ingalls say they have delivered 28 DDG 51 ships to the U.S. Navy. This highly capable, multi-mission ship can conduct a variety of operations, from peacetime presence and crisis management to sea control and power projection.