Offshore 'Fail-Safe' PSV Design by Ulstein Under Construction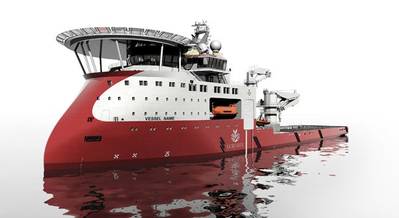 Ulstein Group joined forces with GC Rieber Shipping to provide a ship that refuses to accept failure, thanks to pioneering 'operation+' philosophy.

GC Rieber Shipping, the Norway-based harsh environment shipping specialist, has charged Ulstein with developing a high-capacity subsea vessel based on its SX121 design. This NOK 800 million ship, ordered in June 2012, alongside an option for a sister vessel, has been commissioned in response to strong market desire for offshore construction support vessels (CSVs) for deep and harsh environments.
 Reliability and performance are characteristics of the design.

Concept 'Operation+' allows the vessel to continue to operate even if it has experienced a significant failure. Bjørn Valberg, GC Rieber Shipping's Technical Director, explains more:

"Fail-to-safe means that even if a ship encounters a failure it is rendered in a safe condition. Our objective with this ship is to take that philosophy a step further,"

Valberg comments,

 "In the case of this vessel a single failure – such as a failure of a generator set, a single thruster or even an entire switchboard section (operating two generators and two thrusters) – will not threaten the redundant continuation of operations, giving charterers real peace of mind."



Geir Sivertstøl, principal engineer electrical systems at ULSTEIN, says the vessel, equipped with three main thrusters and three side thrusters (for stationkeeping during pipe laying), is fully optimised for carrying out assignments without interruption.

He notes: "The switchboard system, propellers and diesel motors can be configured in groups of two, three or four. In case of an AUTR operation (i.e. the occurrence of a single major failure), the vessel will only lose one third of its installed power package and propulsion, and will be able to complete the operation with two thirds of its capacity."

"This," Sivertstøl stresses, "in combination with the highest standards for dynamic positioning, DYNPOS-AUTRO, will ensure that charterers can look forward to operational standards that are custom made to tackle the world's harshest - and potentially most resource rich - environments."


The SX121 is scheduled for delivery in the first quarter of 2014, boosting GC Rieber Shipping's fleet (which was fully booked at the conclusion of 2011) of 18 advanced special purpose vessels, 12 of which are owned by the company.