DP3 Offshore Construction Vessel 'OSA Goliath' Sold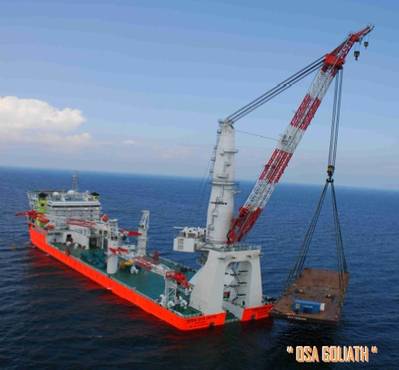 Oceanografia completes agreement to acquire 'OSA Goliath' from CarVal Investors.

Oceanografia S.A. de C.V., one of Mexico's largest leading vessel operators specializing in underwater survey, diving, pipe laying construction and maintenance operations has announced that it has signed an agreement to acquire the OSA Goliath from CarVal Investors.

Oceanografia has successfully operated the OSA Goliath under charters from CarVal Investors since 2009.

In a separate transaction, CarVal Investors' managed funds have sold all of the equity they held in Oceanografia to the majority shareholder of Oceanografia.

CarVal Investors is a leading global alternative investment fund manager focused on distressed and credit-intensive assets and market inefficiencies. The firm, which was founded by Cargill in 1987, has approximately $9 billion in assets under management in both credit and real estate strategies.