WSF: Construction to Start on 144-car Ferry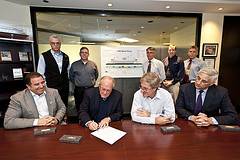 State invests in expanding ferry fleet, but funding unavailable for more vessels.
Construction will begin early next year on a new 144-car ferry. The Ferries Division of the Washington State Department of Transportation today signed a contract change order with Vigor Industrial and its US Fab shipbuilding division to begin construction. "This has been a momentous week for Washington state and our ferry system," said Gov. Chris Gregoire. "We have just taken delivery of the last of three new 64-car ferries, the Kennewick, and now we begin construction on a new 144-car ferry – an important action that helps ensure we have modern vessels to continue giving our passengers safe and reliable service."
Work on this first vessel will create an estimated 200 family-wage jobs at Vigor and 350 jobs at subcontractors, vendors and other shipyards in the region. The new ferry is scheduled to take about 27 months to complete. Cost of construction is $115 million and the total cost of the vessel is $147 million, which includes owner-furnished equipment, construction management and contingencies. The design of the ferry is based on the 130-car Issaquah class, which has proven to be the most versatile vessel in the state fleet. Benefits of the new 144-car ferry include increased passenger comfort, improved safety systems, better access for customers with disabilities and reduced operating costs.
"This construction is a vital part of our vessel-renewal program and will allow us to retire the 55-year-old ferry Evergreen State," said state Transportation Secretary Paula Hammond. "But this is the last boat we have funding for and we don't have the money needed just to operate our ferry system at the current level. We are on the brink of a crisis." WSF has a contract with Vigor for design and construction of up to three 144-car ferries, but it is contingent on available funding. "We're eager to get started building this new ferry with our two dozen subcontractors and suppliers around the region," said Kevin Quigley, president of Vigor's US Fab division. "We look forward to putting local, skilled shipbuilding trades to work producing another new ferry for the citizens of Washington state."
Washington State Ferries operates the largest ferry fleet in the United States. Twenty-two ferries cross Puget Sound and its inland waterways, carrying more than 22 million passengers a year.