New Air Regulator from TDI Improves Air Flow Consumption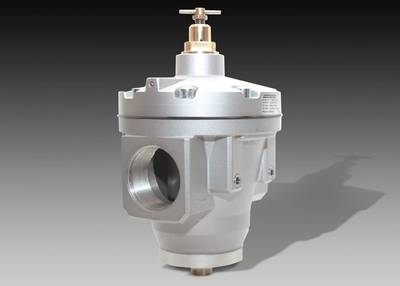 Tech Development (TDI) introduces its new TurboFlow Air Regulator which the company says dramatically improves air delivery to the start system. The TurboFlow Regulator combined with other TDI start system components provides perfectly matched air-flow to the turbine starter for improved reliability and significant system savings.

"One of our marine customers was looking to get more than the three starts they were receiving from their air reservoir using a competitive pre-engaged turbine starter," states Dave Rawlins, Senior Product Manager at TDI. "We switched them to a TDI T515-I inertia-engaged start system with our new TurboFlow Air Regulator and they were able to get 9 starts at 50 psig. This allowed them to re-classify their boat as an ocean going vessel and enabled them to gain additional value in terms of higher daily rates."
TurboFlow Air Regulators are used on engine start systems in the marine, oil & gas, power generation, and mining industries and on specific engines including Caterpillar, Cummins, GE, GM, Ford, MAN, MTU, Waukesha, Wartsila, Yanmar and other large engine makes. TurboFlow can also be applied as a part of plant air systems or in applications where both high and low pressure differentials exist.

A significant amount of an engine's air is wasted because of the inability of the components in the system to flow as needed during the process. The TurboFlow Regulator minimizes dynamic air-flow loss and delivers the optimized air volume to the starter every time. On marine vessels, emergency generator sets, remote starting environments or other applications where space is also an issue, it allows for the use of smaller air tanks. Because the TuboFlow matches the required air to the starter, in almost every application, users will experience significantly better air efficiency – and can see dramatic increases of useable air available enabling more starts from the same tank volume.

"If you look at air starting as a 'complete system' like we do, improving the regulation of air to the turbine starter is a great place for engine users and engine manufacturers to improve the system reliability and optimize the efficiency of the whole starter system," continued Rawlins. "A number of starting systems in the field use regulators incorrectly sized for achieving proper flow to the air starter. This happens because too often the selection process for the regulator was based on physical size and did not take into consideration important characteristics like the Cv factor of all the components. Improper air regulation limits the performance benefits of a turbine starter. By offering a component already proven to match the starter requirements, TDI can make it easier for the customer to experience all the performance benefits without having to do the engineering and sourcing themselves. There is a significant savings in time and cost when you know the components have already been proven to work together as a system and with one supplier. The entire system is designed with flow matched components which equals improved starting efficiency."

The TurboFlow Air Regulator is just one part of a system which includes the air compressor, storage tanks, a relay valve like the TDI TurboValve, and a pre-engaged or inertia-engaged TurboTwin turbine air starter from TDI. The specification and application of TurboFlow in a start system takes into consideration the Cv factor. Basing air modulation by this, rather than piping sizes allows the unit to manage air-flow dynamically during operation – something that is not happening in most engine air start systems.

"OEMs making TurboFlow part of their start system are attractive because it not only provides an additional user benefit, but also an extremely wide operating range from 50-580 psig (3.5-40 BAR) which is significantly higher than other regulators used in starting applications," concluded Rawlins. "The introduction of TurboFlow is going to draw more attention to the importance of matching the air flow regulator with the starter as a complete start system. I believe viewing starting engines as process and as complete system rather than just individual components is going to create healthy dialogue on overall efficiency and air consumption. That's good for OEMs, packagers, end-users, and ultimately the helps improve the availability which is critical in nearly all engine applications."