Munters DryCool™ Container Dual Controls Interior Air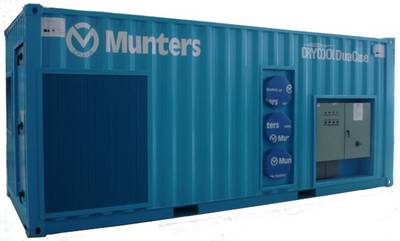 Munters spotlight their DryCool™ DuraCase container that provides operators the ability to control temperature and humidity independently from a fully transportable container.
The manufacturers explain that this durable shipping container serves as the housing for the efficient DryCool™ system that combines the benefits of desiccant dehumidifiers with the cooling of DX air conditioners to treat make-up air. Designed to cost-effectively treat 100% makeup air, the system controls humidity on an as-needed basis.
DuraCase is designed for transport with all replaceable components accessible through hinged doors and built in supply air duct ports for quick installation of flexible duct work. This rugged unit can easily be relocated without the concern of it becoming damaged.

www.munters.us