APL Name Fifth of 12 New Container Ships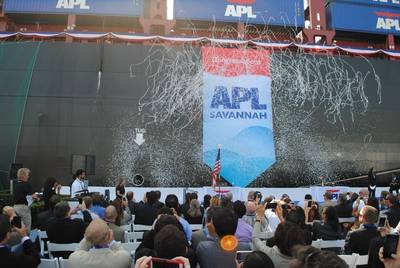 APL has named their new 9,200-TEU (twenty-foot equivalent unit) container ship 'APL Savannah' at the Port of Los Angeles.
The APL Savannah is the fifth in a series of twelve 9,200-TEU vessels to be delivered to APL, the container shipping arm of Singapore-based shipping and logistics company Neptune Orient Lines (NOL). She is also the first containership to be named and christened at the Port of Los Angeles.

"Today, we celebrate our long history of more than 160 years in the US, and our commitment to and investment in the Trans-Pacific trade," said Ng Yat Chung, Group President and CEO of NOL. "We are upsizing and upgrading our ships calling here, and remain firmly committed to provide our customers a competitive product with comprehensive service coverage and leading customer service."

APL Savannah and her sister ships are the largest in the APL fleet to ply the Trans-Pacific trade between Asia and the U.S. on the South Asia Express (SAX) service, rotating ports in San Pedro, Busan, Kaohsiung, Chiwan, Yantian and Singapore.

Jeannie Lavers, Director of International Transportation for Kohl's Department Stores, served as Godmother for the APL Savannah and broke a ceremonial champagne bottle over the ship hull. The ceremony was witnessed by Eric Garcetti, Mayor of the City of Los Angeles.

APL said the new 9,200-TEU series of vessels is designed for greater operational efficiency and more environmentally-sustainable operations. For example, an optimised hull form reduces hull resistance and results in less fuel consumed for propulsion. Its fuel efficiency, measured by the Energy Efficiency Design Index, is certified to be 30.54% better than guidelines set by the International Maritime Organisation. By consuming less fuel, the ships will also emit less exhaust.