Korean Yard to Build World's Largest Container Ship for CSCL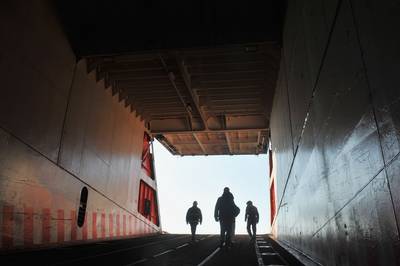 Hyundai Heavy Industries (HHI) say they have begun building the first of five 19,000 TEU container ships for China Shipping Container Lines (Hong Kong).

HHI explain that the shipowner upgraded the original order for five 18,400 TEU containerships to ones capable of delivering 600 more containers, and thus these new ships will be the largest container ships ever built they claim.

The new container ships will feature 77,200 bhp electronically-controlled main engines which will maximize fuel efficiency, and reduce noise, vibrations, and carbon emissions by automatically controlling fuel consumption to suit sailing speed and sea conditions.
Also two EcoBallast seawater treatment systems which can treat 3,000 m3 of seawater per hour by filtering and sterilizing bacteria and plankton bigger than 50 µm with ultraviolet rays.

The first containership, measuring 400.0 m in length, 58.6 m in width and 30.5 m in depth, is scheduled to be handed over by November 2014. The remaining four container ships are slated to be delivered by the end of the first quarter 2015.

Hyundai Heavy add that they have obtained 102 ships out of the 372 ultra-large containerships on order so far this year.