Liebherr Container Cranes to Deliver 4 Straddle Carriers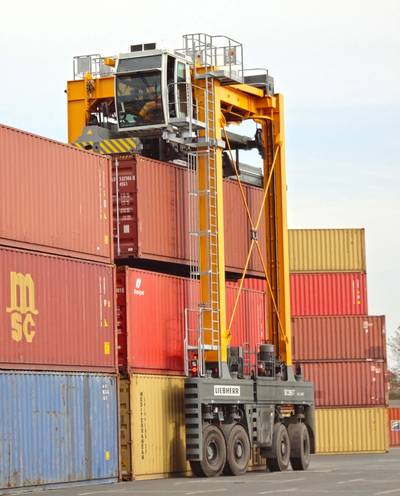 Liebherr Container Cranes has secured an order for the delivery of four (4) straddle carriers to New Zealand. Lyttelton, Port of Christchurch has placed the order for the Liebherr SC350T, these machines will stack 1 over 2 high and are supplied with a 50t twin lift spreader.

The straddle carriers will join a pair of Liebherr ship to shore cranes at the port and will be linked to a remote container tracking system, providing real-time accurate information on the position and handling rates of containers within the terminal. The four straddle carriers are due for delivery mid-2013. Lyttelton, Port of Christchurch is the major trade gateway to New Zealand's South Island and announced an increase of 16.8% in container throughput at the port to the end of June 2012.

This is the second order that Liebherr Container Cranes has secured for the delivery of straddle carriers to New Zealand in recent months. The Port of Tauranga has also placed an order for three (3) Liebherr straddle carriers of similar configuration to the Lyttelton machines. In both cases the orders followed detailed evaluations by port engineers and drivers during site visits to existing terminals using Liebherr machines.

Liebherr Container Cranes continue to utilise the knowledge and experience of the Liebherr group while carefully listening to the experience of the client, ensuring Liebherr machines meet the requirements of operations, drivers, engineers and the market.