Mombasa Container Traffic Up 12% in 2014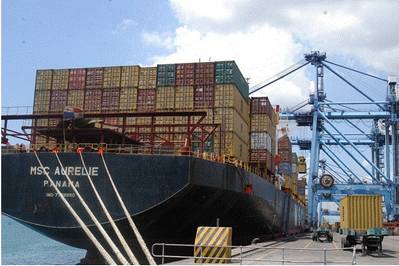 The Indian Ocean port is seen as a measure for economic activity in east Africa as it handles fuel, consumer goods and other imports for Uganda, Burundi, Rwanda, South Sudan, Democratic Republic of Congo and Somalia, and exports of tea and coffee from the region.
Gichiri Ndua, the port's managing director, said the port handled 1 million, twenty foot equivalent units (TEUs) of cargo between January and December, up from 894,000 TUEs in 2013, and it expects a 30 percent further increase to 1.3 million TEUs in 2015.
"We have remarkably cut container dwell time and transit times to neighbouring countries by reducing non-tariff barriers along the Northern corridor. This, together with expansion projects and new cargo handling machinery, is the reason for the good performance," Ndua said.
He said more expansion projects are planned for 2015.
Kenya also plans a second port in Lamu, north of Mombasa, with a capacity of 23 million tonnes per year, though the project has been affected by delays.
(By Joseph Akwiri; Editing by Edith Honan and Louise Heavens)