Crowley Acquires 500 New 40' Containers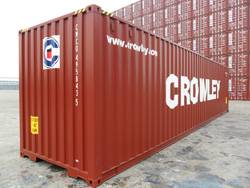 Brings Company Investment in New Equipment for 2011 to more than $23 Million.


Crowley Maritime Corporation's liner services group is continuing to grow and update its equipment fleet to better serve customers with the addition of 500 new 40-foot, high-cube containers. The acquisition adds to the company's already robust equipment fleet of more than 45,000 units, as well as phases out some older containers. The new containers, which have a capacity of 2,700 cubic feet, will be used in all liner service operations in Latin America, the Caribbean and Puerto Rico.


"Our customers value having current, reliable equipment of varying sizes when and where they need it," said John Douglass, senior vice president and general manager, Puerto Rico and Caribbean services. "This container acquisition is in keeping with our commitment to meeting and exceeding their needs."


"The addition of these new containers, along with other equipment of various sizes and types last year represents an investment of more than $23 million," said John Hourihan, Crowley's senior vice president and general manager of Latin America services. "I know our customers appreciate this type of commitment."


The new containers, which contain more durable North American oak wood flooring, exceed all new and amended ISO standards for freight container door security applications. A combination of security enhancements and upgrades deters and prevents unauthorized access into containers and loaded cargo. Since 2003, Crowley has invested nearly $240 million to modernize and grow its intermodal equipment fleet. Most recently, Crowley purchased 75 car racks (45 feet long and eight feet wide by 9 feet, six inches high), and in November of last year added 222 40-foot high-cube refrigerated containers and 133 new gensets in preparation for the peak perishables season in Central America.