Video: Containerships Collide in Suez Canal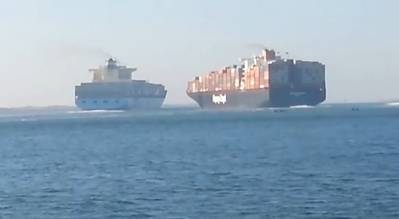 Two large containerships collided in the Suez Canal off Port Said at roughly 5:30 local time Monday morning.

The Hapag-Lloyd's Colombo Express, a 324-meter German-flagged containership, collided with 332-meter Singapore-flagged Maersk Tanjong, causing several dropped containers and a large gash in the Colombo Express' bow. Both vessels remain afloat.

A video of the collision is available at http://www.youtube.com/watch?v=2ktwo-k-onk#t=198.

The Suez Canal Authority reports it is investigating the incident and is working to recover the lost containers. Traffic in the area has been delayed as a result of the collision.

No reports of injuries or pollution have been recorded.