Contamination: Primary Cause of Tank Container Claims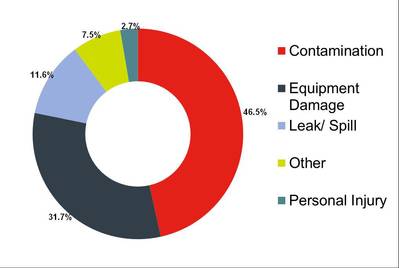 Freight transport insurer TT Club reveals detailed results of its claims survey highlighting tank container incidents: contamination accounts for nearly half with damage to tanks adding another third

Speaking at the Asia Tank Container Organization's General Meeting in Shanghai yesterday, TT Club's Regional Director, Asia-Pacific Phillip Emmanuel outlined the major risk exposures facing the tank container industry. Based on an extensive analysis of the club's claims experience resulting from incidents involving tank containers, Emmanuel pinpointed contamination as the leading danger, accounting for over 46% of the volume of incidents on TT's books in the last nine years.

Revealing the more detailed dangers to the Conference delegates Emmanuel explained, "Contamination can result from any number of factors. However, the incompatibility of the tank itself with the cargo concerned is the most common cause. This is often the result of insufficient cleaning, particularly of the discharge valves and baffle plates, following the carriage of the previous cargo. Corroded or worn man lid seals, and issues occurring either at the origin land tank or during the loading procedure are also common contributory factors."

Emmanuel provided insight into the nature of these incidents and the best forms of damage limitation and risk avoidance. "In terms of impact damage, most tanks are built to highly robust standards and the incidence of leaks from such accidents is low. Damaged or failure of valves, seals a gaskets are much more common in occurrence," he reported.

Emmanuel went on to define the chief safety precautions recommended to avoid such risks:
Comprehensively interrogate and validate the Material Safety Data Sheet to ensure the tank and its components can fulfill all special requirements demanded by the cargo and the shipper
Perform regular outer shell and insulation inspections
Fit man lid gaskets and seals correctly and ensure the appropriate tightening of swing bolts on man lids
Assess the most appropriate selection of gaskets and seals for each cargo. Particularly invasive cargoes can simply destroy any exposed area of the gasket and/or seal.
"When there is a failure in any of the above control factors, something as simple as a change in ambient temperature through the supply chain can result in a sufficient build in pressure to cause a leak," Emmanuel emphasized.

Looking to the future, Emmanuel concluded by outlining the priorities that TT Club consider noteworthy in bringing down both the cost and danger of tank container operation. There needs to be wider industry analysis of incidents and accompanied by knowledge sharing, so that lessons can be widely learned. There should be a continuous review and identification of risks together with greater transparency within the supply chain, as both its complexity increases and the nature of its environment evolves. Finally, there must be a greater emphasis on training.