Cooler Arctic in 2013, But Shift to Warmer State Continues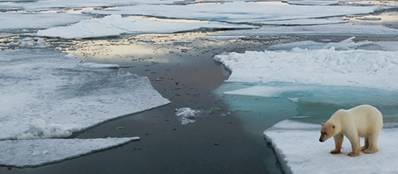 Though not as extreme as last year, a new report by NOAA and partners says that the Arctic continues to show evidence of a shift to a new warmer, greener state.

Cooler temperatures in the summer of 2013 across the central Arctic Ocean, Greenland and northern Canada moderated the record sea ice loss and extensive melting that the surface of the Greenland ice sheet experienced last year. Amongst the findings:
Sea ice
Despite a relatively cool summer over the Arctic Ocean, the extent of sea ice in September 2013 was the sixth lowest since observations began in 1979. The seven lowest recorded sea ice extents have occurred in the last seven years.

Ocean temperature and salinity
Sea surface temperatures in August were as much as 7°F higher than the long-term average of 1982-2006 in the Barents and Kara Seas, which can be attributed to an early retreat of sea ice cover and increased solar heating. Twenty-five percent more heat and freshwater is stored in the Beaufort Gyre, a clockwise ocean current circulating north of Alaska and Canada, since the 1970s.

"The Arctic Report Card presents strong evidence of widespread, sustained changes that are driving the Arctic environmental system into a new state and we can expect to see continued widespread and sustained change in the Arctic," said Martin Jeffries, principal editor of the 2013 Report Card, science adviser for the U.S. Arctic Research Commission, and research professor at the University of Alaska Fairbanks.