Long Beach Cargo Continues Rebound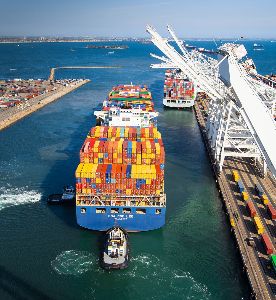 Strongest April for Port of Long Beach since 2006

Container cargo flow through the Port of Long Beach increased 7.9 percent in April compared to the same month last year, leading to the busiest April in nine years, the port announced today.

A total of 614,860 TEUs (twenty-foot equivalent units) of containerized cargo were moved through the Port in April. Imports reached 317,376 TEUs, a 7.3 percent increase from last year. Exports fell 6.1 percent to 137,546 TEUs. Empty containers surged 25.3 percent to 159,938 TEUs. With imports exceeding exports, empty containers are sent overseas to be refilled with goods.

In April, the terminals were also working through the backlog left over from the winter's congestion in San Pedro Bay. By the end of the month, no more containerships were waiting at anchor to come into the Port of Long Beach.

Through the first four months of 2015, Long Beach cargo numbers are essentially flat compared to the same period last year, down 0.3 percent overall.

With an ongoing $4 billion program to modernize its facilities, the Port of Long Beach continues to invest in long-term, environmentally sustainable growth.