Crew Cashcard a Continuing Success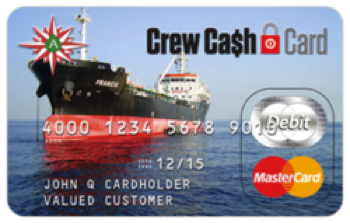 Over 100,000 seafarers currently committed to the CrewCashCard, with a total potential of 1.5-million more to come.
CrewCashCard eliminates many well-known pain points for both ship owners and their respective crew. Immediate benefits are achieved from bypassing the traditional practice of cash payroll payment distribution at ports of call. Benefits for the seafarers include safety and better funds security, immediate availability of funds, electronic bill payments, money transfer services and access to cardholders' services.

Several leading Ship Management companies have signed contracts to participate in CrewCash™Card, a revolutionary payroll and benefits program. Seafarers employed for participating companies will receive electronic payroll payments directly deposited on a custom branded MasterCard Prepaid Debit card.
The card comes with the added protection benefit provided by ATMSafe™ insurance. Any cardholder will be protected against loss and injury due to a robbery while using his/her CrewCashCard at any ATM, from a mobile device or at any point-of-sale, worldwide.

The CrewCashCard is a product offering of Cardplatforms LLC, a Florida-based US technology and financial services company with offices in Panamá and the Philippines as well.

The first companies to offer this innovative payment program are Akron Trade &Transport, Lotus Shipping, Leon Shipping & Trading, Kyla Shipping Enterprises Corp., Entrust Shipping and Tsakos Shipping & Trading, one of the world's largest manager and operator of tanker, container and dry cargo vessels