Singapore DP Sensors Workshop a Continuing Success Say Sonardyne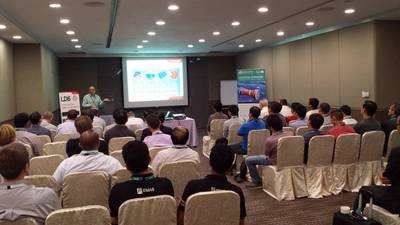 Acoustic and inertial navigation company, Sonardyne, has recently held its second successful Dynamic Positioning (DP) sensors technologies workshop in conjunction with Guidance Marine and Veripos. In attendance were industry experts and equipment buyers from across the region, gathered to discover the latest state-of-the-art Position Monitoring Equipment (PME) and to discuss their thoughts on the industry's future requirements.
Discussions throughout the day, explain Sonardyne, looked at the time-saving benefits and independency offered by acoustically aided inertial navigation solutions, the importance of reference sensor placement for optimal performance and reducing operational risk. The afternoon was dedicated to highly-interactive, hands-on sessions looking at equipment usability and future technologies which generated much feedback about general concepts of operation and requirements for current and upcoming projects.
"Our dynamic positioning workshops with Veripos and Guidance Marine are proving to be very popular and we're seeing increasing demand from audiences in Europe and elsewhere for similar events to be held next year which we have committed to organise," said Mark Carter, Sonardyne Global Business Manager – DP and Drilling.

"We've already started to see some common themes emerging from these sessions which have provided us with valuable feedback to filter into our engineering and product development teams for the technology of the future."

www.sonardyne.com