South African DAFF Fleet Repair Contract for Damen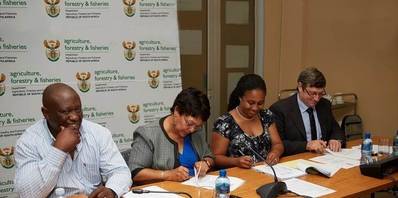 Damen Shipyards Cape Town contracted for maintenance & repair of Department of Agriculture, Forestry & Fisheries (DAFF) fleet.
Damen Shipyards Cape Town (DSCT, part of Damen Shipyards Group) has been assigned by DAFF to get its fleet of Fisheries Research Vessels and Fisheries Protection & Surveillance Vessels operational as soon as possible. The scope of work includes repair works and ongoing maintenance.
The DAFF Fleet currently consists of six vessels, including the 83m Offshore Patrol Vessel 'Sarah Baartman' and the 78m Research Vessel 'Africana'. A DAFF spokesman said earlier that there is an immediate and urgent focus to get both these vessels operational again.

In the picture from left to right: Mr Ceba Mtoba, Chief Director: Monitoring, Control & Surveillance
, Mrs Greta Apelgren-Narkedien, Deputy Director-General: Fisheries Management, 
Mrs Sefale Montsi-Zuma, Board Member DSCT, 
Mr Gary Atkins, Repair & Service Manager DSCT