Ingalls Awarded USN Contract for 11th LPD 27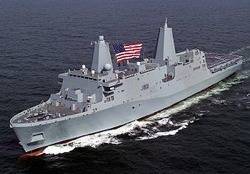 Ingalls to provide long-lead materials for US Navy LPD 27
The US Navy has awarded a million cost-plus-fixed-fee advance procurement modification contract to Huntington Ingalls Industries' (HII) Ingalls Shipbuilding division to provide long-lead materials for the 11th San Antonio-class (LPD 17) amphibious transport dock, LPD 27.

The advance procurement contract for LPD 27 is the fourth to be awarded to the company, with the first contract awarded in October 2010.

Under the latest $70m contract, Ingalls will provide long-lead-time materials including main engines and diesel generators and other equipment such as electrical switchboards, deck equipment and fire extinguishing systems in support of the new ship.

The 684ft-long, 105ft-wide San Diego-class has a displacement capacity of 24,900t, can accommodate 800 troops and is designed to provide combat support for the US Navy and US Marine Corps.