Kvichak Marine Awarded Duqm Pilot Boat Contract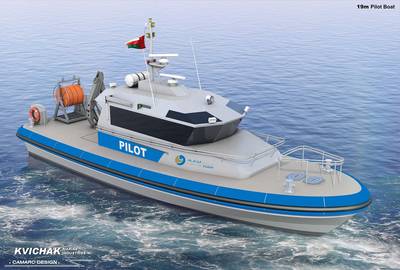 Kvichak Marine Industries has been awarded a contract for the construction of two 19m all-weather pilot boats for the Port of Duqm Company SAOC, Sultanate of Oman, the company announced today. Designed by Camarc Design, Ltd., UK, the vessels will also function as search and rescue and oil spill recovery vessels.
The all-aluminum vessels will be powered by twin Cummins QSK-19 marine diesel engines rated for 800 hp at 2100 rpm each and twin ZF 2000A transmissions driving NiBrAl 5-bladed fixed propellers, providing an operating speed of ~20 knots. The pilot boats will be used in all types of weather, including the high winds and stormy seas experienced in southern Oman during "Hareef" (typhoon) season. The company projects delivery of the vessels in Spring 2016.
The Port of Duqm is in the midst of a multiphase expansion project that is a major focus of the nation's development goals. The Special Economic Zone Authority at Duqm (SEZAD) is overseeing rapid expansion and development, which includes creating the new port and drydock complex. In November 2012, the Oman Daily Observer reported that the SEZAD had planned $11.9B worth of infrastructure, industry, utility, logistics, tourism and leisure, health, and fishery and environment-related projects.