AMI Wins $3.5 Million Defense Contract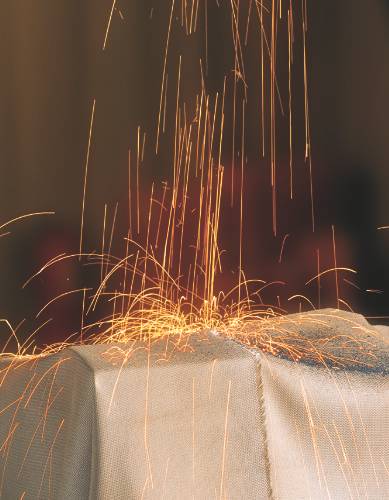 Auburn Manufacturing, Inc. (AMI) has won a multiyear contract to supply over 200,000 yards of AMI-SIL fabric to the Puget Sound Naval Shipyard (NSY) in Bremerton, Washington, for use in hot work operations during ship repair.

The contract, which could total as much as $3.5 million over the next five years, "reflects the continued confidence the Department of Defense has in our products," said Kathie Leonard, AMI's President and CEO. "We've been supplying hot work safety fabrics to the Navy for over twenty years under various contracts, and are now well over 1.5 million yards. Our AMI-SIL fabrics have consistently passed the government's rigorous inspections and meet all their specifications."

Keeping its U.S. manufacturing base played a major role in helping AMI win this contract, Leonard said. "The contract requires that the fabrics be 100% U.S. made —from yarn to finished product —in accordance with the Berry Amendment of the Buy American Act," she explained. "This requirement assures that only the highest performing textile products are used in critical hot work operations during ship repair at Puget Sound NSY and other ship repair facilities."

AMI-SIL fabrics are third-party certified and comply with ANSI/FM 4950, a performance-based standard for hot work fabrics, a requirement of the National Fire Protection Association standard for hot work, NFPA 51B (2009). AMI-SIL can withstand heat twice that of fiberglass on a continuous basis, with a melting point in excess of 3000°F (1650°C). When used horizontally for welding protection, a single layer of AMI-SIL AS3600 fabric – with a "Pad" rating per ANSI/FM 4950 — can withstand molten metal slag without burning a piece of paper directly under the fabric.

Now in its 35th year in business, AMI performs all of its complex manufacturing operations – from weaving to finishing and testing — at the company's facilities in Maine. "We are fully committed to continuous improvement in all of our operations from a customer perspective," said Leonard. "Examples include a recent facility expansion, implementation of lean principles throughout all operations, major production equipment upgrades, and continual investment in the product and business development."