H2X Wins Contract to Build Second, Larger Survey Vessel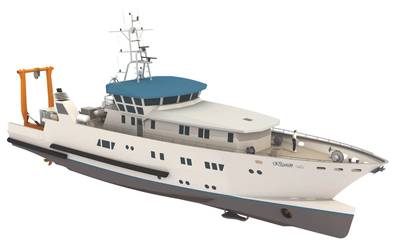 H2X, a member of iXBlue's marine works division, has been awarded a contract to build a 43-meter monohull survey vessel by a Saudi Arabian university specializing in hydrographic and oceanographic studies.

The vessel will be of a standard design with various modifications to meet defined operational needs. Constructed mainly from lightweight composite materials, the vessel will be propelled by two diesel and two classical shaft lines for transits, and by a pump-jet azimuthal stern thruster and have a bow thruster to ensure maximum manoeuvrability; it will also be fitted with a dynamic positioning capability. The vessel wil be handed over to the owners complete with all the navigational, positional and survey equipment necessary to conduct scientific work from day one at water depths to over 2000 metres.

Charles Nissard H2X Sales Director said, "This is the second contract that we have agreed with this important client. The first was for a 15-metre dual-hull survey vessel, which is due to be delivered in October 2012. We have forged an excellent relationship with the client during the work. We believe that this, together with the strength of our commercial proposal, was fundamental in securing this larger project." H2X president Sebastien Grall, added, "The contract consolidates H2X's position in the professional workboat market. In the past two years, we have been asked to build a total of six workboats, including three for scientific use. Before this we were absent from this market."

The vessel will be built at H2X's La Ciotat shipyard in the south of France, near Marseille. Design work is almost complete and construction of the vessel should start later this year.
Delivery is scheduled for the second half of 2014. Contracts for the supply of the various onboard systems are expected to be awarded in the coming months.