MAN Wins Power Contract for Spanish Ships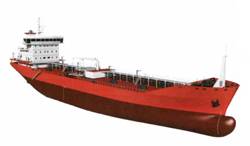 Spains's Empresa Naviera Elcano, S.A., aninternational shipping group, placed an order for two medium-speed MAN L27/38 engines as part of a propulsion package for a new vessel. The units will be constructed at the MAN Diesel & Turbo facility in Frederikshavn, Denmark, and will power a 7,000-dwt asphalt and oil-products tanker to be built at Sedef Shipyard in Turkey. The 6-cylinder main engines each deliver 2,040 kW at 800 rpm.
Elcano has chosen the engines as part of a MAN Diesel & Turbo propulsion package that also comprises an Alphatronic 2000 propulsion control system, an MAN Alpha VBS Mk 5 CP propeller, and a double-reduction gearbox with multiple PTO clutches operating at 1,200 kW at 1200 rpm.
Characterised by its heavy-duty propulsion and maneuvering power performance, the L27/38 engine series performs well over the entire load range, offering an immediate load response and quick acceleration. The L27/38 is smokeless at idling, part-load and full-load, is optimised for high-torque layout, and emits low levels of NOx while minimising fuel-oil consumption.