Offshore Wind Contractor Aims for New Vessels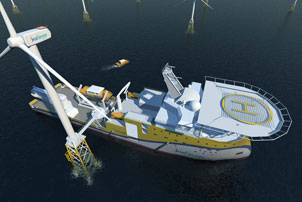 At the Offshore Wind Conference 2010 in Liverpool, Scottish based SeaEnergy PLC signed a Letter of Intent with Ulstein Group to co-develop new service vessels for the offshore wind industry. As the offshore wind industry moves further from the coastline, new strategies are required to make these far offshore windfarms more cost effective.

"The currently available units in this industry have shortcomings with respect to mobility, flexibility and operational window, which will have an even bigger impact when going further away from safe havens," said Mike Comerford of SeaEnergy. "In our philosophy the vessels have to be more versatile and offer greater crew comfort, so they can stay longer offshore instead of sailing back and forth into port every day. In Ulstein we have found a partner that is able to translate our requirements into a competitive design."

Both companies have been working together over the last months to develop a design that will excel in operational characteristics. By signing the LOI both companies want to tighten their relationship and underline that this will be a first step in jointly realizing the needs of the industry.