Russian Conventional Sub Floated Out After 9 Years in Dock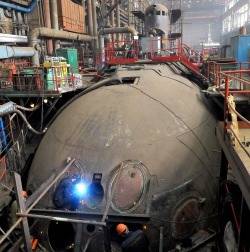 Zvezdochka Shipyard put upgraded diesel-electric SSK Kaluga afloat at last
Northern Fleet (NF) diesel electric submarine B-800 Kaluga has left the covered slipway for further launching after modernization at defense shipyard Zvezdochka (Severodvinsk).
The submarine is expected to join the Russian Navy by the end of the current year. "She is going to be the first non-nuclear submarine modernized by Zvezdochka for Russian Navy in the recent 20 years", pointed out the shipyard's press service.
The submarine has stayed at the shipyard's quay for 9 years pending repairs. Full-scale works on SSK Kaluga started only in the last year.
Kaluga was built in 1989 at Krasnoye Sormovo shipyard in Nizhniy Novgorod under Project 877 Paltus (export version Varshavyanka, on NATO classification Kilo class).
At first, the sub was stationed at Black Sea Fleet, and then transferred to the north. SSK Kaluga was designed by the Rubin Central Design Bureau in S. Petersburg. Surface displacement of those submarines is 2,300 tons; length is 73 meters, submerged speed is 18 knots (about 33 kph); full endurance is 45 days, test depth is 300 meters; crew is 52 men; armament is six 533-mm torpedo tubes.