GE Power Conversion Comes Up Trumps in 'MSC Preziosa' Trials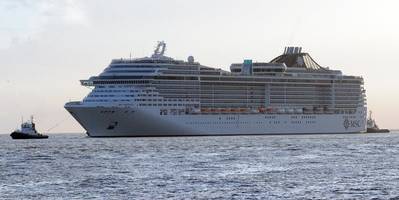 'MSC Preziosa' successfully completes sea trials with its GE Power Conversion electrical power & propulsion system.
Built from the STX yard in Saint-Nazaire, France, MSC Preziosa is the latest ship in MSC's Fantasia-class and the 12th in the MSC fleet. The vessel has recently completed a series of sea trials including propulsion and maneuverability (speed ranges, full speed, crash stop, power plant and propulsion interactions, full/partial propulsion configurations) as well as noise and vibration measurements.

Briag Allain, propulsion technical function manager at STX Europe says, "This is the first time we participated in sea trials with such a high level of performance without any trips or incidents of the propulsion system and this is because of the product reliability, and also, GE Power Conversion has really gained the trust of STX Europe through their commitment to their customers."
STX Europe selected GE Power Conversion for the design, manufacturing and commissioning of the propulsion system, five generators and six thrusters for MSC Preziosa.

The new ship will have an 'A' Shipping Efficiency ranking, the same as its sister ship, MSC Divina.
GE's Power Conversion business provides complete power and propulsion system packages, including power generation, electrical distribution and fixed or variable speed drives, including motors for propulsion, thrusters and specialist applications. Its expertise in ship power and propulsion systems ranges from the manufacture and supply of power generation systems to integrated full electric propulsion systems and increasingly, hybrid propulsion systems.
Click here to visit the MSC Preziosa web site.