CoolCo to Retrofit Boil-off Reliquefaction Units for Improved CII Performance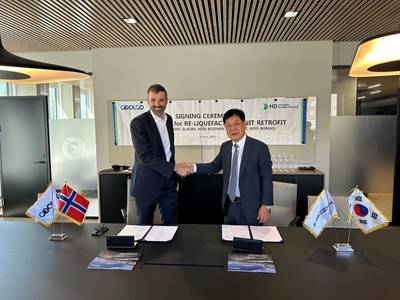 HD Hyundai Global Service, a ship service subsidiary of HD Hyundai Group, has announced that it has signed contracts with Cool Company (CoolCo), an owner and operator of LNG vessels, to retrofit five LNG carriers with reliquefaction units.
The contract value is approximately US$10 million per vessel.
A reliquefaction unit is a device used to re-liquefy the boiled off gas (BOG) generated during the operation of LNG cargo tanks, either returning the gas to the cargo tank or preventing natural evaporation using sub-cooled LNG. When a vessel is in operation, BOG is consumed as fuel by the propulsion engine. However, without a reliquefaction unit, during periods of reduced vessel speed, during port stays, or while utilizing the vessel for floating storage, the BOG needs to be forcibly burned, resulting in the loss of LNG cargo and the emission of greenhouse gases.
The retrofit aims to help the shipping company meet IMO GHG requirements. At MEPC 78 in 2022, a correction item was adopted so that LNG carriers could deduct fuel consumption equivalent to the amount of power used in cargo reliquefaction equipment when calculating the ship's Carbon Intensity Indicator (CII).
HD Hyundai Global Service plans to incorporate reliquefaction units supplied by Air Liquide, a French company specializing in this technology, and will be responsible for the overall design, product supply, installation and commissioning.
Using its integrated, in-house vessel management platform, CoolCo provides charterers and third-party LNG vessel owners with modern and flexible management and transportation solutions, delivering a lesser-emitting form of energy that supports decarbonization efforts, economic growth, energy security, and improvements in quality of life. CoolCo intends to leverage its industry relationships to make further accretive acquisitions of in-service LNGCs, and to selectively pursue newbuild opportunities. The retrofit of the sub-cooling units is an important step towards achieving CoolCo's ESG goals.
Richard Tyrrell, CEO of CoolCo, said, "These reliquefaction units will provide our charterers with valuable flexibility when it comes to managing the seasonal fluctuations in LNG demand, in particular by supporting efficient travel at lower speeds, idling and floating storage applications. In addition, these retrofits will enhance the long-term value and competitiveness and reduce the environmental footprint of what will become our LNGe vessels."