Kenyan Minister: Cooperation Key to Developing Maritime Sector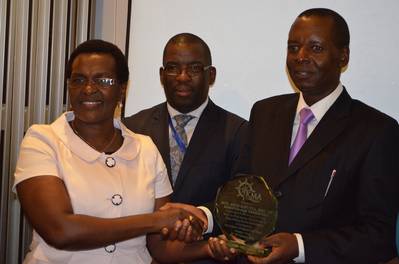 Cooperation on development of sea and inland waterway ports will not only boost intra trade within Africa, but it will also promote shipping activities between the continent and global communities, Amos Kimunya, minister of Transport, Kenya said.
Speaking while officially opening the inaugural heads of African Maritime Administration and ship registrars conference in Mombasa Kenya, Mr Kimunya said Africa is currently playing a slight role in global maritime sector.As a proof, he pointed out that Africa yearns to play a role in the maritime industry yet it has almost a non-existent ownership of vessels. Estimates by Fummi Folurunso of the African Association of Ship Owners and the Africa South African Maritime Safety Authority show that Africa has 4, 000 ship owned by 200 business persons. "This number said is low given the vibrancy of the ship presence at African ports," said Mr Kimunya.
Ms Fummi said ship owners in Africa demand action from their governments to offer them help in addressing the challenges that hamper growth of the shipping industry. Tsietsi Mokhele, CEO, South African Maritime Safety Authority says Africa is an island yet to recognise its maritime economic potential. "The continent borders the Mediterranean Sea on the North, Indian Ocean on the East, the Atlantic Ocean on the South and West, yet the national governments have consistently failed to take maritime transportation seriously," pointed out Commander Mokhele.
Nancy Karigithu, CEO, Kenya Maritime Authority cited piracy, insufficient trained people and inadequate funding for research and training institutions coupled with poor legislation as factors that hamper maritime industry. She said for Africa to successfully play her part in the maritime sector, it has to look to Asia's Hong Kong, China and Taiwan for vital lessons. In bid to correct the anomaly, the African Union in 1994 adopted the African Maritime and Transport Charter. The Charter aimed at encouraging the maritime sector to actively play in the continent's social-economic development.
It advocated for establishment of an African fleet, encouraging states to harmonise policies to support the maritime sector across the continent. The 1994 Charter was revised in 2010 in Uganda to include gender equality and the role of information and communication technology in the sector. This was viewed as key in promoting trans-African cabotage. But expertise appealed to the minister to have Kenya lead the way by having Kenyan parliament formulate maritime policies that would enable its related business to thrive.
At the national level, the Kenya government enacted the Merchant Shipping Act to usher in a comprehensive legal regime to address issues of maritime safety and security and prevention of pollution of maritime environment.

Kenya's Minister of Tranasport, Mr Amos Kimunya recieves a trophy from Ms Nancy Karigithu, Director General, Kenya Maritime Authority.
Kenyan minister urge cooperation to develop her maritime sector