Port of Seattle Co-Presidents Reelected for 2015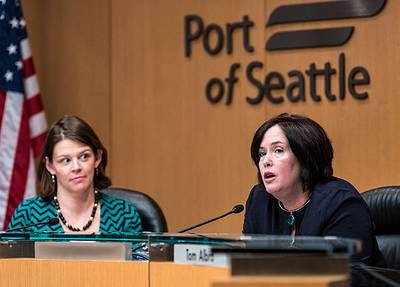 The Port of Seattle's co-
presidents Stephanie Bowman
and Courtney Gregoire have been reelected by the port's commission for another full-year term. The commission also
elected John Creighton
to serve as vice president, Tom Albro to serve as commission secretary and Bill Bryant to serve as assistant secretary.
"We began 2014 with a focus on critical issues including enhancing the competitiveness of our seaport, finding the right executive leadership for the port and expanding job opportunities in our communities," said commission co-president Gregoire.
In August, the commission selected Ted Fick, an executive with more than 25 years of leadership experience in major manufacturing and transportation organizations, to serve as the port's new CEO.
Also in 2014, the Seattle and Tacoma port commissions took steps towards forming the Seaport Alliance, an agreement to unify management of
the two port
s' marine cargo terminals in order to address competitive challenges and create new economic opportunities. Together, the two ports' cargo operations form the third largest container gateway in the country and support more than 48,000 jobs across the region.
A study released by Martin Associates in November found that Port of Seattle activities added nearly 20,000 new jobs to the region's economy over the past six years.