Grand Circle Cruises Buys 'MV Corinthian'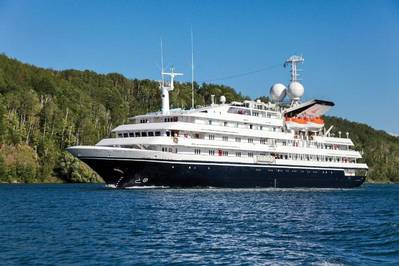 Vince Cook, CEO of Grand Circle Cruise Line, informs that the company has acquired the 'M/V Corinthian', a 98-passenger, ocean-going vessel that currently operates in Antarctica. They had chartered the ship for the past year and intend to expand the Corinthian's operations with the launch of three new small ship cruise itineraries in 2015.

The ship was acquired for an undisclosed price from Travel Dynamics International, an operator of educational programs aboard small cruise ships, which will continue to operate the Corinthian throughout 2014, with Grand Circle Cruise Line assuming operational control when the ship returns to Antarctica in the fall. In addition, the two companies have entered into a long-term agreement whereby Grand Circle Cruise Line will provide small ship itineraries on the Corinthian and its other small ships for Travel Dynamics' educational programs.

Grand Circle Cruises explains that the Corinthian is an ice-strengthened vessel with the latest navigational, communications, and safety equipment. It is 297 feet long and carries 98 passengers in 49 outside-facing suites – each at least 225 square feet in area. All suites feature individual climate control, mini-refrigerator, safe, telephone, TV, DVD/CD player, a sitting area, and a private bath. An elevator serves all passenger decks. The ship's well-appointed common areas include a restaurant, two lounges— including one with panoramic windows — and a library with Internet access.

Similar to every Grand Circle Cruise Line small ship, the Corinthian will be able to enter small ports that larger ships cannot, providing travelers with access to small cities, towns, and villages and opportunities to engage with local people and experience their culture and way of life.

About Grand Circle Cruise Line
Established in 1998, Grand Circle Cruise Line offers 15 river cruises and cruise tours throughout Europe and Russia as well as eight small ship cruise tours to Burma, Antarctica, Panama, the Dalmatian Coast, Greece and the Greek Islands, the Aegean, Adriatic and beyond. The cruise line is a division of Grand Circle Corporation.
http://www.gct.com/