GE Gas Turbines to Power Turkish Corvettes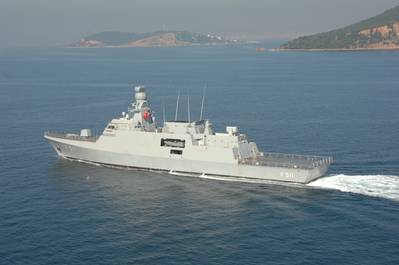 GE Marine announced it has signed a contract with Savunma Teknolojileri Mühendislik Ve Ticaret A.Ş. (STM), Ankara, Turkey, whereby GE will provide STM with LM2500 gas turbines. The engines will power the Turkish Navy's third and fourth MILGEM multi-purpose corvettes, GE reported today during the IDEF '15 industry trade show.

STM is the program manager for these new two ships, and will provide platform systems, construction materials, design services and the main propulsion systems, as well as integration of the propulsion system. In addition to the services provided to the Turkish Navy, STM has export responsibility of the MILGEM corvettes with the endorsement of the country's Undersecretariat for Defence Industries (Savunma Sanayii Müsteşarlığı or SSM). In accordance with export targets, STM is expected to have further collaboration opportunities with GE Marine.

The propulsion system for the two new MILGEM ships will be the same as sisters TCG Heybeliada (F-511) and TCG Büyükada (F-512), consisting of a LM2500 gas turbine in a combined diesel and gas turbine configuration with two diesel engines. Total propulsion power is 31,000 kilowatts, allowing the ships to reach maximum speed in excess of 29 knots. The corvettes have an overall length of 99 meters with a displacement of 2,300 tons.

The initial two MILGEM corvettes entered naval service in September 2011 and September 2013, respectively. Additionally 24 LM2500s operate aboard the Turkish Navy's Barbaros- and Gabya-class frigates. Worldwide, the LM2500 gas turbine is used by 32 international navies and in countless industrial applications.

In-Country Presence
The LM2500s for the MILGEM program are manufactured at GE's Evendale facility near Cincinnati, Ohio. Tusas Engine Industries Inc. (TEI), a joint venture between GE and Turkish Aerospace Industries Inc., manufactures parts for LM2500 gas turbines as well as other GE Aviation engines at their facility in Eskisehir, Turkey.

The MILGEM program is managed by SSM, and similar to the first two ships, the Turkish Navy will undertake design and performance responsibilities for the new corvettes. The new MILGEM ships will be constructed at the Istanbul Naval Shipyard; GE will deliver the engines in 2015 and 2016.